You are here
Back to top
Nightshade (Paperback)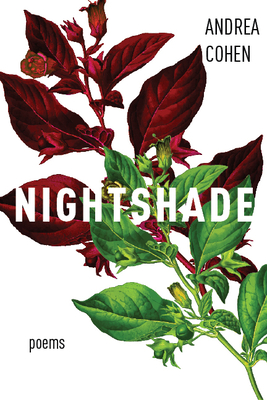 $15.95
Available In Our Warehouse
Description
---
The poems in Andrea Cohen's Nightshade, her sixth full-length collection, are constructed from the wisdom of loss—of lovers and loved ones and a world gone awry. Cohen builds a short poem the way a master carpenter does a tiny house, in lines that are both economic and precise, with room enough for sorrow and wit to exist comfortably in their spaces. The great pleasure in reading these poems is their surprise in the way the endings arrive again and again in startling truths: The bride whose dress is sewn "from a hundred/tattered flags/of surrender" and the ever-present reminder of the title poem that the things of this world are both "poison and . . . balms" that "We /call . . . bitter- / sweet––what / living isn't?"
About the Author
---
Andrea Cohen's poems have appeared in The New Yorker, The Atlantic Monthly, Poetry, The Threepenny Review, The New Republic, and elsewhere. Her earlier poetry collections include Unfathoming, Furs Not Mine, Kentucky Derby, Long Division, and The Cartographer's Vacation. She directs the Blacksmith House Poetry Series in Cambridge, MA, and the Writers House at Merrimack College.
Praise For…
---
Advance Praise for Nightshade

"Nightshade illuminates a world that has been here all along but, for some reason, is very hard to see. Andrea Cohen's eyes are a terrible gift and these poems are amazing & eerie & perhaps not even hers. Not that she stole them—more that she found them, when no one else could." —Nick Flynn

 
Past Praise

"In stark, short lines, Cohen sculpts away the inessential, leaving a spare commemoration of intimacy." — Robin Becker

"Cohen's craft is meticulous . . ." —Tony Hoagland
"...this is acutely literary writing that wears its literariness lightly enough for long journeys to unfamiliar places...."
--David Orr in his write-up for "The Best Poetry Books of 2019" list in The New York Times
— David Orr
"...while her cryptic epigrammatic poems are often over in a blink, they stay with you...."
— Lloyd Schwartz
Featured in Literary MagNet section.
— Dana Isokawa
"The author prays to the gods so she can stop praying. And here is the tone of these wry, tight minimalist poems. Each page has either a conundrum or a puzzle at the center, as Cohen tries to light a dark world by strengthening thought and stripping words to their hidden literal meanings...."
— Grace Cavalieri