You are here
Back to top
The Book of Not Entirely Useful Advice (Hardcover)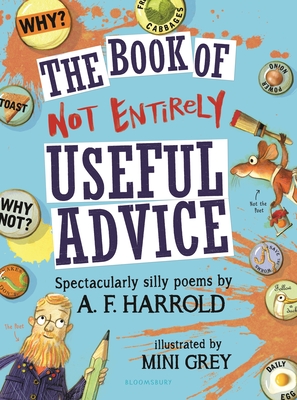 $19.99
Coming Soon - Available for Pre-Order Now
Description
---
From acclaimed writer A.F. Harrold comes a riotous poetry collection that encourages readers to think critically--perfect for fans of Shel Silverstein!

Packed with silly rhymes and witty wordplay, A.F. Harrold's poetry is positively bursting with fun--and advice. But it's not always the most useful. . .

Never apologize to a door you've walked into, unless it's a really special door.

Don't serve a cat soup when the cat wants jelly. Tomato soup won't fill a feline belly.

Don't put a rock in a roll, unless you hate having teeth.

Among the seemingly nonsensical stanzas on onions, sausages, and kilted koalas are exercises in critical thinking--what advice should readers follow, and what should they dismiss? Harrold's short, clever poems work seamlessly alongside Mini Grey's vibrant art to create visual gags that will have readers in stitches. Both silly and poignant, this book is perfect for curious readers, poets, and cabbages everywhere!
About the Author
---
A.F. Harrold is an English poet (1975 - present). He writes and performs for adults and children, in cabaret and in schools, in bars and in basements, in fields and indoors. He was Glastonbury Festival Website's Poet-In-Residence in 2008, and Poet-In-Residence at Cheltenham Literature Festival in 2010. He won the Cheltenham All Stars Slam Championship in 2007 and has had his work on BBC Radio 4, Radio 3 and BBC7. He is active in schools work, running workshops and slams and doing performances at ungodly hours of the morning, and has published several collections of poetry. He is the owner of many books, a handful of hats, a few good ideas and one beard.
Praise For…
---
"A collection such as this reminds us of all the many wonderful ways to be ridiculous." —BCCB, starred review

"A good bit of fun." —Kirkus Reviews

"Gripping and poignant, a look at what it means to be brave and alive in the face of loss." —Kirkus Reviews, starred review, on THE AFTERWARD

"A curious, immersive narrative . . . Ember's vibrant personality imbues the book with unfaltering warmth." —Booklist, starred review, on THE AFTERWARD

"Harrold brings this eerie . . . tale about accepting change, letting go, and love's indissoluble bonds to an affecting finale that is very much grounded in real life." —Publishers Weekly, on THE AFTERWARD

"Harrold brings a delectable combination of coziness, sympathy, and menace to this story . . . making this an accessible story of controlled shivers and heartfelt compassion." —BCCB, on THE AFTERWARD

"Readers of Neil Gaiman or Roald Dahl may find this title particularly appealing . . . Recommended." —School Library Connection, on THE AFTERWARD

"Wonderfully entertaining." —Kirkus Reviews, starred review, on THE IMAGINARY

"A great choice for readers who like fantastic tales with a dose of true scariness." —School Library Journal, starred review, on THE IMAGINARY

"Affecting and lovely." —The New York Times Book Review on THE IMAGINARY

"[A] winningly whimsical celebration of the imagination, beautifully enhanced by both black-and-white and full-color illustrations." —Booklist on THE IMAGINARY

"Masterfully paced and stunningly crafted." —Shelf Awareness, starred review, on THE SONG FROM SOMEWHERE ELSE

"Strong characterizations and a good dose of spookiness are standouts." —School Library Journal, starred review, on THE SONG FROM SOMEWHERE ELSE

"Captivating." —Kirkus Reviews, starred review, on THE SONG FROM SOMEWHERE ELSE

"Incisive [and] poetic." —The Horn Book Magazine, starred review, on THE SONG FROM SOMEWHERE ELSE