You are here
Back to top
Casper Tock and the Everdark Wings (The Unmapped Chronicles #1) (Paperback)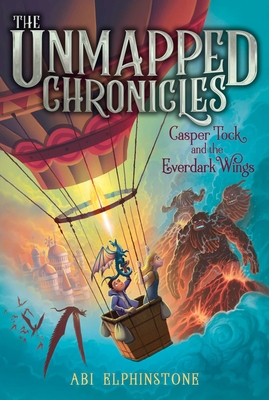 $8.99
Available In Our Warehouse
Description
---
"Whimsical, humorous, richly built…A delightful series opener." —Kirkus Reviews

From bestselling author Abi Elphinstone comes a wondrous new series about four secret unmapped kingdoms hidden in our own world!

Casper Tock hates risks and is allergic to adventures. So it comes as a nasty shock to him one day when he hides from bullies in an ancient grandfather clock—and ends up finding an entire world inside.

Casper discovers that this sky kingdom of Rumblestar is one of the four Unmapped Kingdoms in charge of controlling the weather in Casper's own world. What's more, Casper is now stuck in Rumblestar, and the only person there who doesn't think he's a demon spy is a strange girl named Utterly, who hates rules and is allergic to behaving.

All Casper wants is to find his way home, but Rumblestar is in trouble. An evil harpy called Morg is trying to steal the magic of the Unmapped Kingdoms. And if these kingdoms fall, Casper's world will be destroyed as well.

And so, together with Utterly and her miniature dragon, Arlo, Casper embarks on a quest full of cloud giants, storm ogres, and drizzle hags. Can he, Utterly, and Arlo—the unlikeliest of heroes—save both their worlds from the clutches of Morg?
About the Author
---
Abi Elphinstone grew up in Scotland where she spent most of her childhood building dens, hiding in tree houses, and running wild across highland glens. After being coaxed out of her treehouse, she studied English at Bristol University and then worked as a teacher in Africa, Berkshire, and London. She is the author of the Dreamsnatcher trilogy and the Unmapped Chronicles, among other books for young readers, and the editor of anthology Winter Magic. When she's not writing, Abi volunteers for the children's literacy charity Coram Beanstalk, speaks in schools, and travels the world looking for her next story. You can find more about Abi at AbiElphinstone.com or on Facebook at Facebook.com/Abi.Elphinstone.