You are here
Back to top
The Soccer Ball Monster Mystery (Rider Woofson #6) (Paperback)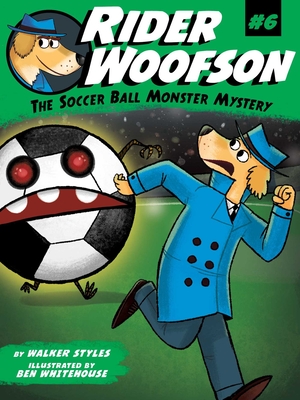 $5.99
Available In Our Warehouse
Description
---
In this sixth Rider Woofson adventure, the PI Pack investigates the missing mascot for the Pawston Dynamos!

The Pawston Dynamos are a soccer team without a mascot, but that's because their mascot has gone missing! Can Rider and the PI Pack find Dynamo Dog before the upcoming championship or will the team's spirit be stolen, too?

With easy-to-read language and illustrations on almost every page, the Rider Woofson chapter books are perfect for emerging readers!
About the Author
---
Walker Styles grew up reading kids' books, so it makes sense that he's writing them now. And when he isn't writing books, he's out solving mysteries around the city of Manhattan, where he lives. Just the other day, he lost the book he was reading. Following all the clues, Walker deduced the couch ate it! (Well, the book was under the couch cushions. Still, mystery solved!).

Ben Whitehouse is an illustrator based in Birmingham, UK. He has previously worked in the animation industry as a character designer, animator, and stop motion puppet maker before finding his feet within the world of illustration. You can visit him at StopMotionBen.com.