You are here
Back to top
Strong As a Mother: How to Stay Healthy, Happy, and (Most Importantly) Sane from Pregnancy to Parenthood: The Only Guide to Taking Care of YOU! (Paperback)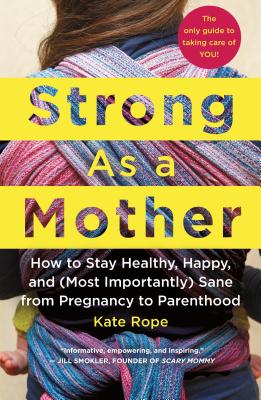 $18.99
Usually Ships in 1-5 Days
Description
---
Expert, practical advice for complete mental and physical maternal health
Kate Rope's Strong as a Mother is a practical and compassionate guide to preparing for a smooth start to motherhood. Everyone knows the secret to having "the Happiest Baby on the Block." This is your guide to being the Sanest Mommy on the Block. It will prepare you with humor and grace for what lies ahead, give you the tools you need to take care of yourself, permission to struggle at times, and professional advice on how to move through it when you do. This book will become a dog-eared resource on your nightstand, offering you the same care and support that you are working so hard to provide to your child. It will help you prioritize your emotional health, set boundaries and ask for help, make choices about feeding and childcare that feel good to you, get good sleep, create a strong relationship with your partner, make self care an everyday priority, trust your instincts, and actually enjoy the hardest job you will ever love.
This book is here to take care of you.
About the Author
---
Kate Rope is editorial director of the Seleni Institute and an award-winning freelance journalist whose work has appeared in many publications and online outlets including the New York Times, Real Simple, CNN.com, Shape, Glamour UK, BabyCenter, Parade and Parenting. She has been a key staff member of many national and international publications, including LIFE and Mother Jones and was a founding editor of Health.com. She is coauthor of the Complete Guide to Medications During Pregnancy and Breastfeeding and lives in Atlanta with her husband and two daughters.
Praise For…
---
"Informative, empowering, and inspiring. I can't think of a single mother who wouldn't benefit from reading this. It's the book equivalent of a long chat with your most honest and experienced mom friend – something we all need more of!" —Jill Smokler, New York Times bestselling author and founder of Scary Mommy
"Writing in the tone of a friendly, nonjudgmental peer...Rope mixes in solid advice from experts and her personal experiences...[and] offers women commonsense guidance and vigorous reassurances on coping with the tumultuous changes of pregnancy and parenthood." —Publishers Weekly
"Divided into three parts—pregnancy, surviving the first year, and motherhood beyond—this book recognizes that, as a mother, maintaining mental health should be a top priority. The topics covered are vast (from feeling anxiety in early pregnancy, to being a mom to a fussy baby, to handling doubtful thoughts once the baby has been born), and the book can be read from start to finish or consulted by section for mothers' most pressing need." —Booklist