You are here
Back to top
Solving for M (Hardcover)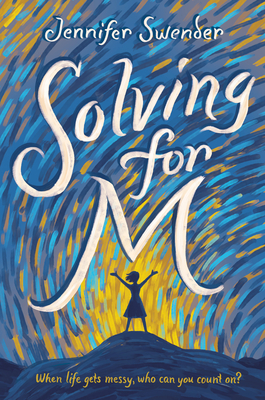 Description
---
Perfect for fans of Raymie Nightingale and The Fourteenth Goldfish, this heartfelt middle-grade novel seamlessly melds STEAM content with first loss in an honest and striking debut.

When Mika starts fifth grade at the middle school, her neat life gets messy. Separated from old friends and starting new classes, Mika is far from her comfort zone. And math class is the most confusing of all, especially when her teacher Mr. Vann assigns math journals. Art in math? Who's ever heard of such a thing?

But when challenges arise at home, Mika realizes there are no easy answers. Maybe, with some help from friends, family, and one unique teacher, a math journal can help her work out problems, and not just the math ones.

Debut author Jennifer Swender delivers poignant prose and illustrator Jennifer Naalchigar brings Mika's journal to life in this perfect equation of honesty plus hope that adds up to a heartwarming coming-of-age story.
About the Author
---
Jennifer Swender is a graduate of Yale University and received her master's from Teachers College at Columbia University. Like Mr. Vann, Jennifer was also a teacher. She has worked in New York City and Houston public schools and is a Teach for America alumna. She now works and lives with her husband, Paul DeBois Jacobs, in Amherst, Massachusetts.

Jennifer Naalchigar has been dreaming and doodling in her diaries from a young age--just like Mika. Unlike Mika, Jennifer showed limited promise in math, but she has thoroughly enjoyed exploring Mika's personality and reflecting her thoughts, fears, and dreams through her diary entries.

After working in publishing for several years, Jennifer turned her attention to illustrating full-time. She lives in Hertfordshire, England, with her husband and daughter.