You are here
Back to top
Science in a Jar: 35+ Experiments in Biology, Chemistry, Weather, the Environment, and More! (Paperback)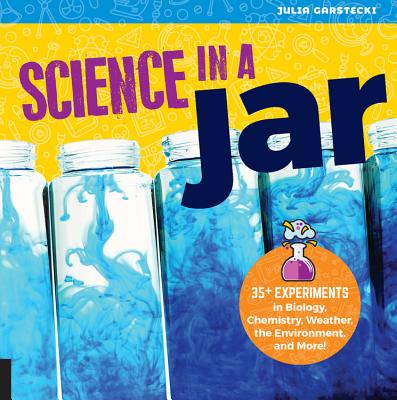 $17.99
Available In Our Warehouse
Description
---
With Science in a Jar, kids and grown-ups need only gather a jar and a few other inexpensive and readily available household objects to begin investigating and confirming the science at work all around them. The 35+ experiments included cover various scientific disciplines: life science, earth science, physical science, weather, and more.

Some activities, like creating a cloud in a jar, are quick experiments that can be performed over and over again. Others, like the earthworm habitat, will be enjoyed over time. Science in a Jar also features several projects that help demonstrate how science and art intertwine—the sometimes overlooked "A" in STEAM!

Each experiment is headed by a supplies list and difficulty level, as well as a short description of the project to be undertaken and the scientific principles with which the readers will interact. Directions and photographs guide readers through the scientific method in each experiment, while short features offer multileveled reading opportunities with explanations of terms, interesting quick facts, and brief descriptions of how scientists apply the specific concepts that readers just witnessed in the larger world today.

In addition to providing readers with a better understanding of basic scientific concepts, Science in a Jar ignites curiosity, increases confidence to investigate scientific concepts, and fosters a love of science.
About the Author
---
Julia Garstecki is an experienced teacher and author of dozens of nonfiction books for children, including Science in a Jar; Pick, Spit & Scratch; Sniff, Lick & Scratch; and Burp, Spit & Fart. She has also written several parenting pieces for various magazines. Publications include Thrive, Westchester Parent, and Mothering in the Middle. Her humor column "How Did I Get Here" appeared in the Jamestown Gazette.

Julia completed her undergraduate work at Michigan State University, where she earned her degree in Elementary Education while minoring in both English and Biology. Her graduate degree focused on reading instruction and she later earned her certification for special education. She currently teaches writing at Goodwin College.
Praise For…
---
"Do you have a surplus of glass jars clogging your cupboards and children who are curious and excited about the world? If so, Julia Garstecki's collection of more than 35 household experiments may be a great addition to your library. This book is divided into chapters on life science, chemistry, earth science, physical science, and environmental science. Similar to Jonathan Adolph's 2018 book Mason Jar Science, the premise is that all of these experiments are to be conducted using glass jars of varying sizes. Although the aim is to use common household materials (stock up on food coloring—you'll need it!), experiments occasionally call for items that are unlikely to be lying around (e.g., iron filings and a dual-probe thermometer).
 
For each experiment, the central concepts being tested are artfully conveyed using bright, inviting photos and accessibly written introductions, followed by a materials list and clear step-by-step instructions. Each experiment closes with an "Observations" section, which provides explanations and further questions. Fun facts on tangential topics—from earthworm poop to the autonomous sensory meridian response—make an occasional appearance.
 
Many classic household experiments—such as dissolving eggs in acid, synthesizing slime, and generating explosions of vinegar and baking soda—can be found among the book's 120+ pages. Although most of the experiments listed are meant to be conducted indoors, several encourage children to go outside and explore the natural world. Where Science in a Jar really shines is with its simplest experiments, which manage to explain broadly interesting concepts—such as why puppies snuggle when they sleep and how clouds form—in a fun and accessible way."
- Seth Scanlon, Science Magazine
"With "Science in a Jar", kids and grown-ups need only gather a jar and a few other inexpensive and readily available household objects to begin investigating and confirming the science at work all around them. The 35+ experiments included cover various scientific disciplines: life science, earth science, physical science, weather, and more. Some activities, like creating a cloud in a jar, are quick experiments that can be performed over and over again. Others, like the earthworm habitat, will be enjoyed over time. "Science in a Jar" also features several projects that help demonstrate how science and art intertwine -- the sometimes overlooked "A" in STEAM! Each experiment is headed by a supplies list and difficulty level, as well as a short description of the project to be undertaken and the scientific principles with which the readers will interact. Directions and photographs guide readers through the scientific method in each experiment, while short features offer multileveled reading opportunities with explanations of terms, interesting quick facts, and brief descriptions of how scientists apply the specific concepts that readers just witnessed in the larger world today. In addition to providing readers with a better understanding of basic scientific concepts, "Science in a Jar" ignites curiosity, increases confidence to investigate scientific concepts, and fosters a love of science. Ideal for a homeschooling curriculum textbook, "Science in a Jar: 35+ Experiments in Biology, Chemistry, Weather, the Environment, and More!" is also available in a digital book format (Kindle, $17.99) and is unreservedly recommended for elementary school, middle school, and community library DIY science collections for children ages 8-12."
- Midwest Book Review