You are here
Back to top
Beast: Face-To-Face with the Florida Bigfoot (Hardcover)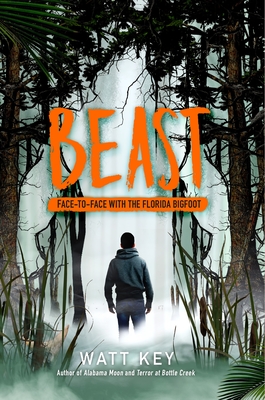 $16.99
Available In Our Warehouse
Description
---
Beast is a fast-paced adventure of guts and survival, this time with a paranormal twist, from acclaimed author Watt Key...

Adam says he can't remember where he was for the two months he went missing in a Florida swamp. That's not true. He does remember. The truth: He was driving with his parents, and the car crashed when his father swerved to avoid colliding with a giant Sasquatch-like creature standing in the highway.

Haunted by his parents' disappearance and hounded for claiming to have seen Bigfoot, Adam sets off into the deadly wilderness on a hunt for answers as to what really happened that night. The answer he finds is more terrifying—and more fascinating—than he could have imagined.
About the Author
---
Albert Watkins Key, Jr., publishing under the name Watt Key, is an award-winning southern fiction author. He grew up and currently lives in southern Alabama with his wife and family. Watt spent much of his childhood hunting and fishing the forests of Alabama, which inspired his debut novel, Alabama Moon, published to national acclaim in 2006. Alabama Moon won the 2007 E.B. White Read-Aloud Award, was included on Time Magazine's list of the Best One Hundred YA Books of All Time, and has been translated in seven languages.
Praise For…
---
"Walking a fine line between the fantastic and the realistic, Key creates a scary, page-turning adventure spun from his own experience (set forth in an author's note). . .This compelling cryptid fantasy has its big feet planted firmly in realistic survival fiction." —Kirkus Reviews

"Key's adrenaline-packed story chops through palm fronds with a machete, trudges through soul-sucking mangrove mud, and struggles to breathe above the merciless, snake- and alligator-infested currents of adventure as Adam, armed with supplies and a stolen boat, revisits the site of his parents' accident to track the Bigfoot. . .A thrilling journey of determination, ideal for fans of Hatchet by Gary Paulsen, as well as Call of the Wild." —Booklist

"As with all of Keys's amazing books, give this to the reluctant reader seeking an outdoors adventure or to someone who loves survivalist fiction." —School Library Journal