You are here
Back to top
The True History of Lyndie B. Hawkins (Paperback)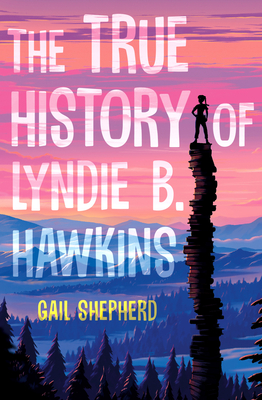 $8.99
Available In Our Warehouse
Description
---
A Publishers Weekly Flying Start ** A Booklist Editors' Choice ** A Junior Library Guild selection ** Four starred reviews!

Family + Loyalty = Keeping Secrets

When it comes to American history or defending the underdog or getting to the bottom of things, no one outsmarts or outfights Lyndie B. Hawkins. But as far as her family goes, her knowledge is full of holes: What exactly happened to Daddy in Vietnam? Why did he lose his job? And why did they have to move in with her grandparents? Grandma Lady's number one rule is Keep Quiet About Family Business. But when her beloved daddy goes missing, Lyndie faces a difficult choice: follow Lady's rule and do nothing--which doesn't help her father--or say something and split her family right down the middle.
About the Author
---
Gail Shepherd (1957-2020) graduated from the University of Florida with an M.A. in poetry and received an MFA, also in poetry, from the same institution. She collaborated on radio plays, wrote comic serial magazine stories, published her own biweekly indie newspaper, and worked in the K-12 education industry, supporting teachers and schools with training and technology. A fourth-generation Floridian on her mother's side, she lived in South Florida with her little family and two dogs.
Praise For…
---
★ "Readers will lose their hearts to this sassy and aching heroine. Full of Southern toughness and mountain charm, her fierce and funny voice fills the pages with fine storytelling. This hope-filled book is a beautiful picture of broken humanity, a storytelling wonder."—Kirkus Reviews, starred review

★ "Lyndie's narration is frank and funny, but it's her love of research and history that sets her apart."—Booklist, starred review

★ "Shepherd's crackling debut . . . moves at a quick pace . . . Noteworthy for its strong narrative voice and dramatic character development . . . with unflinching honesty and humor."—Publishers Weekly, starred review

★ "A heartwarming story about forgiveness, moving forward through life challenges, and becoming your best self. You will love Lyndie's character and be rooting for her . . . It keeps you on the edge of your seat . . . Great for lovers of realistic or historical fiction."—School Library Connection, starred review

"An evocative story of healing and hope."—School Library Journal

"Put aside the other books on your shelf. Read this one. Now. It will pierce your heart in the best possible way and linger there, changing you bit by bit. This is an extraordinary novel that will leave you forever changed, your humanity broadened. Each sentence is a small piece of art."—Donna Gephart, author of Lily and Dunkin and In Your Shoes

"Perfect for fans of Barbara O'Connor, Lyndie's voice leaps off the page, and her spunk, big heart, and dog, Hoopdee, leave you longing for the Smoky Mountains she calls home."—Shannon Hitchcock, author of One True Way and Ruby Lee & Me

"Lyndie B. Hawkins is a crackerjack narrator—her smarts, sass and vulnerability hooked me on page one, and never let me go. This is a bang-up book about being eleven in a fast-changing world, about lies gone sideways, and about the courage it takes to claim and live the truth. Go, Lyndie!"—Sheila Turnage, author of the Newbery Honor book Three Times Lucky

"When was the last time a story broke your heart and made you laugh in the same chapter? A veritable gold mine of perfect words and fine storytelling, The True History of Lyndie B. Hawkins will stay with you long after you close the book."—Augusta Scattergood, author of Glory Be